From The Vicarage
THE NATIONAL HEALTH SERVICE WINTER CRISIS
There has been much in the press about the challenges facing the NHS at this time of year. The Prime Minister has apologised that in many hospitals nonurgent surgery has had to be cancelled. The ambulance service in some parts of the country seems to be at breaking point. In our own county we read of a woman who had to wait five hours before an ambulance responded to her call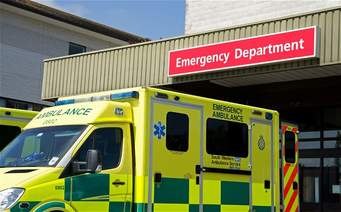 after she suffered a stroke. Every Winter, we see images of patients waiting for hours on trolleys in corridors; and ambulances stacking up outside hospitals.
Dr Sarah Wollston, who is a doctor and a conservative MP, has spoken of the ever increasing scale of demand on our Health Service. As Chair of the Health Select Committee, she is calling for MPs to move beyond political point scoring, to work for a cross-party consensus to achieve adequate funding for the NHS.

SPEAKING PERSONALLY
The reality of the NHS is that, though it has a national logo, it is delivered on a regional basis. There are huge variations on the quality of service provided. Everyone has their own stories to tell: both positive and negative.
My own experience and that of my family has been very positive. Six years ago, I had brain surgery in a London hospital. The surgeon was Neil Kitchen, one of the leading neuro-surgeons in the country. Five months in hospital was followed by six weeks of radio therapy, for which I was transported daily from Maldon to London by the ambulance service. I then had surgery on my vocal folds, again performed by one of the top men in his field, John Ruebin. This enabled me to speak again and to swallow, after 10 months not being able to eat. I was then able to return to my ministry. It was all made possible by the NHS. Then in April 2017, Nick had two months at the Royal London Hospital, following a car accident which left him with severe head injuries. The prompt response of the emergency services and the subsequent three weeks in Intensive Care saved his life. This was followed by 3 months of rehabilitation in Hommerton. The after- care for Nick continues in those 2 London hospitals, in regular visits, where we have been given nothing but courtesy and excellent care. I know that not everyone has been as fortunate as me and Nick, in their experience of the NHS. But for both of us, it would be true to say that the NHS has given us our lives back, and for this we are both profoundly grateful.

THE BEVERIDGE REPORT
In 1942, William Beveridge presented his report to Parliament, which was to result in the creation of the "Welfare State" and the foundation of the National Health Service. The Archbishop of Canterbury, at the time, William Temple said, "this is the first time anyone has set out to embody the Christian ethic in an act of Parliament" We can see how the concept of a National Health service, available to all, regardless of ability to pay, was inspired largely by Christian principles. There is fierce debate between politicians and health professionals about how the NHS should be best be reformed. But for the past 70 years, there has been a consensus that the principle of a National Health Service is something very precious to British society. It seems to me that the choice facing us is a simple one. With an aging population and continuing advances in medicine, are we prepared to use more of our income to fund our National Health Service? I believe that for many of us, this is such an important issue, that we would be.
Stephen