Comments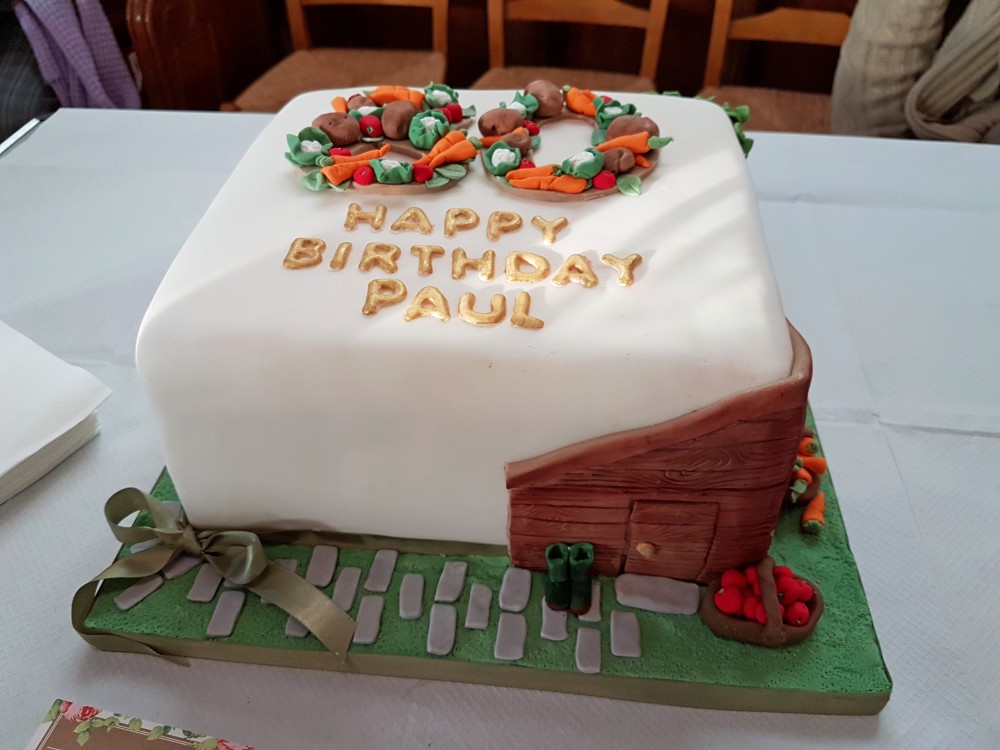 We celebrated Paul's birthday last week with this fantastic cake ... ...
Many happy returns of the day Paul
--------------------------------------------------------------------------------------------------------
8th November 2017.
The Most Reverend and Right Honourable Justin Welby,
Lambeth Palace
LAMBETH
London SE1 7JU
Sir,
Church schools serve non-stunned halal meat
This was the title of an article in the Daily Telegraph, which you may have seen.
I have discussed this both with my vicar at All Saints church in Maldon, the Reverend Stephen Carter, and with my Member of Parliament John Whittingdale.
Stephen agrees with me that this should not be allowed as the production of halal is exceedingly cruel and therefore against Christian principles. But my MP merely says that this brutality is permitted by Act of Parliament. So apparently Parliament, very sadly, is not bothered by animal cruelty.
I would like the practice to be proscribed, but if Parliament is more concerned with the ethnic vote than with cruelty to God's creatures (yet we are not yet a Muslim country) then at least the Church of England should have the power to say it is not acceptable in church schools.
Please, can you help me and especially our four legged friends?
Yours very sincerely,
Geoff Dickman
Copies: John Whittingdale MP
Rev. Canon Stephen Carter
----------------------------------------------------------------------------------------------------------------
From: Lambeth Palace [mailto:contact@lambethpalace.org.uk]
Sent: 21 November 2017 11:40
To: geoff.h.dickman@gmail.com
Subject: 44212 Dickman re Halal meat
Dear Mr Dickman -
The Archbishop of Canterbury has asked me to thank you for your email about halal products and to respond to you on his behalf; he regrets he is unable to reply personally to all the correspondence that he receives. The matter you raise is one of concern, not only to some Christians, but also to some other religious communities and for other reasons to others as well. There are as you will be aware, a variety of different views across and within the religious communities about the acceptability of consuming halal meat, including within the Christian community. It is the case however that a proper labelling of halal products is highly desirable for both Muslims and nonMuslims.
The Christian Muslim Forum, of which the Archbishop of Canterbury is patron, published a joint statement in 2010 (see http:// www.christianmuslimforum.org/images/documents/halal_statement.pdf ) to the effect that halal products should be clearly labelled to enable consumers, Muslim and non-Muslim alike, to make an informed choice. The Church of England supports this approach and we do not approve of the practice in certain supermarkets of failing to label meat products nor of local or other authorities failing to provide alternatives to halal products. You might also be interested to know that in the case of provision for school meals, the Church of England takes the view that a choice should always be available between halal and non halal meals for pupils.
An approach which insists on the labelling of halal products enables Muslims and non-Muslims alike to make an informed choice in relation all these points and it is to the commercial and public authorities that we should turn to take the appropriate action.
Yours sincerely

Andrew Nunn
Correspondence Secretary to the Archbishop of Canterbury
----------------------------------------------------------------------------------------------------------------